Viewings! We have viewings!!
If you haven't heard, apocalpytic movie/TV viewings have started on Tuesday and Friday afternoons from 2-5PM! Check our Slack channel for details about where/what/when. Let me know if you have questions!
Week Twelve Goals
It's time to work with the novel that you chose to read for class. This week, you'll be putting all your media skills to work as you explore the plot, characters, and setting of your book. It's fandom week in ds106.
This week, you'll be doing 12 stars of media assignments that are in someway related to the novel you read for the class. You can pick your mix of assignments from the list below, but you MUST do at leat one 5-star assignment.
Create Finsta Instagram (4 STARS): Create a fake Insta for a character from you novel. Share at least 6 photos.
Create Your Own Adventure (5 STARS): Create an original short game based on your novel.
Harness Relationships (5 STARS): Create a web map of the characters, settings, events from your novel.
Socialize Your Media (5 STARS): Create an array of social media accounts for a character from your novel. Use each one to tell some part of that character's story.
You're a Pintersting Character (3 STARS): Create a Pinterest board for a character from your novel.
Pop Quiz (3 STARS): Create a quiz that suggests the larger narrative of your novel.
Phake Tweets (2 STARS): Create some fake tweets for a character from your novel.
Social Network Story (5 STARS): Create a creative social network story about your novel and document it.
Want to do an assignment not on this list?
Just Slack me privately which assignment you're planning to do, and I'll get back to you.
Want to work in a Group?
You can complete this week's work in a group, but you'll have to combine your stars.
Assignment: Complete 12 Stars
Make sure you write up each assignment in it's own blog post and tell us the story about how you completed the work!
Next week, we'll be starting the final unit in this project, and we need to prepare. Everyone in the class can help by finding and sharing at least one piece of evidence that helps us to understand what's going on with the E.N.D. virus, the various theories floating about, and the mysterious character's we've encountered.
Review the evidence found so far. Re-watch the videos for information and clues. Listen to the radio shows. And, of course, go back and look at the work your classmates have done.
Blog about one piece of evidence you've found: it can be a photo(s), a video, an audio recording. It can be just about anything.
Tell us where you found it and make sure you share your blog post on Twitter using #theend106 #evidence.
Assignment: Share Your Evidence
Write a blog post in which you share your found evidence. Tell us the story behind your finding of it. Share the post on Twitter using #theend106 #evidence.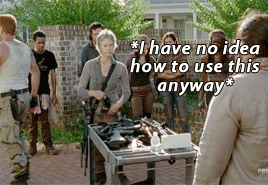 Look to your right. The thing you see is the only weapon you'll have during the End. How will you use it to survive?
Assignment: Weekly Post
Make sure you've completed all the assignments above. Write up your weekly post by Monday at midnight. Remember to refer to The Guide for Writing Blog Posts for tips on how to write our weekly posts! 
This week's checklist:
Complete 12 stars of media assignments that are related to your novel
Share one piece of found evidence with the class on your blog and Twitter
Write up your Weekly post.