Week Three Goals
For the second week of class we'll be diving right into creating. This week will be a combination of reading and writing, they are basically two sides of the same coin.
Make sure you are watching these videos! From YouTube stats, it looks like people are skipping them, and there is important info. You can always use the YouTube controls to speed them up. 
Assignment: Daily Creates
This week, make sure you complete the Daily Create on Tuesday, January 30th and at least two other days (you pick).
Reading good stories is one important way in which we learn how to tell good stories. This week, we're continuing to focus on stories told through writing, specifically short stories. In future weeks, as we turn our attention to other media genres, we'll be "reading" movies, TV show episodes, and radio broadcasts or podcasts. We'll even be looking at photos (or photo essays) and animated GIFs as stories to be "read."
Whenever you're reading a story (no matter what the genre) try and reflect not just upon how much you like the story but how the story is being told. When it comes time to tell your own stories, remember that you get to make choices about how to tell them the same way all these others writers do.
Assignment: Novel Choice
Based on your reading(s) last week, choose the novel that you'll be selecting to read this semester. You'll need to track down a copy of it for yourself.
Obviously, online bookstores like Barnes & Noble or Amazon are good choices; in addition, the downtown library in Fredericksburg may have copies. In addition, if you belong to a public library check out their eBook selections!
Share your choice in the #welcome channel on Slack and on Twitter using #bookchoice #thend106 #ds106.
You should complete your novel by March 26th.
Assignment: Short Story Readings
I've
published a new page
this week that collects lots of media in the apoc/post-apoc genre.
This week, explore the Short Stories section and choose at least two stories to read.
Write a reflection post about the stories. Did you enjoy them? Why or why not? What worked well in the stories and what didn't? How did the author try to draw you in? create a sense of place? develop charaters?
NOTE: When I provide these questions don't feel like you need to answer them all, and in that order. They're meant to get you thinking. You can answer all, none, or some. Mostly, I'm interested in your thoughts about how the story worked.
In addition to doing more reading this week, you'll be telling some more stories yourself through your own writing. Starting this week, I will be assigning work from the Assignment Bank for ds106 in the following way:  I will usually give you one or two required assignments you have to do and then give you a certain number of "stars" of additional work you need to do. Each assignment in the Assignment Bank has a "rating" of stars attached to it. You can pick whatever assignments you want to add up to the total I ask for.
Assignment: Writing from The Assignment Bank
Complete the
Write an Alternative Ending
 assignment by writing a new ending for one of the short stories you read this week.
Complete the Products of the Apocalypse assignment.
Complete at least six additional stars of writing assignments. Make at least three of those be on an assignment(s) that you've tied somehow to the apoc/post-apoc genre.
Make sure you are referring to the Guide for Writing Blog Posts to make sure you are writing up media assignments correctly!
Hack Your Assignments
Here's an interesting wrinkle to the
Assignment Bank
you should know about. If you can't find an assignment you like in the media genre that is assigned, you can
submit your own assignment
. Yep, you can basically define your own work for yourself. In fact, before the end of the semeseter, I'm going to ask each of you to submit at least two assignment ideas (I'll introduce this more formally in a few weeks).
You may want to take a week or two to see how the Assignment Bank works, what kinds of assignments are most popular and interesting, and how assignments are written up before you submit your own. But you don't have to. Have a great idea for an assignment? Do it and share it! (and be honest about the star rating!!)
Site Work & Participation
WordPress Level Up
We'll continue to work on our WordPress sites this week, focussing on organization and navigation.
Assignment: Site Work
Spend some time this week thinking about how your site is organized and how people can find stuff on it. Set up categories for the different genres we'll be exploring this semester: Writing, Photography, Design, Audio, Video, Web/Mashups. Also create a categories for Weekly Post, Media Assignments, and Reflections. Start organizing your posts into these categories, remembering that you can put a post in more than one category. 
Work on creating a custom menu for your site that allows people to find the stuff you're doing easily. 
Don't like the organizational scheme I've suggested? That's fine! Come up with your own, just make sure that you've spent time thinking about organization and navigation. 
Assignment: Participation Points
Let's up the ante this week. Make sure you've either subscribed to the #blog-posts channel in Slack or you're following all of your classmates posts on the front page of this site. Begin commenting on your classmates posts and, in your Weekly Post, identify at least two pieces of work from another classmate that you enjoyed.
IMPORTANT NOTE: Make sure you are approving any comments that are being held "in moderation" on your site. You should get an email when there is a new comment with a link to moderate. Once someone has commeted and been approved, their future comments should be published without your intervention.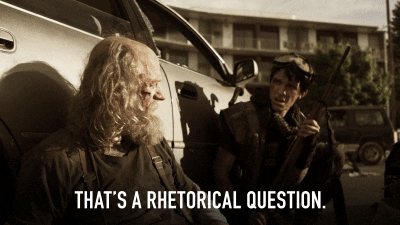 In the event of an apocalypse, do you think you'd be the kind of person to hoard your supplies (for yourself and your loved ones) or would you share them with those around you in need? Why or why not?
Assignment: Weekly Post
Make sure you've completed all the assignments above. Write up your weekly post by Monday at midnight. Remember to refer to The Guide for Writing Blog Posts for advice.